Tube & Wire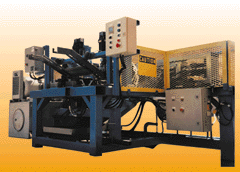 MIL Tube Bending and Forming Machine was designed and built for an Automotive Application. The machine has a feeder, transfer and an unloader enabling a hands-free operation.
Straight tubes are automatically moved from the feeder into the first station where they are bent after which the bent parts are transferred into the second station for the end forming and hole piercing operations.
MIL End Forming Machine allows high productivity (800 parts/hour) forming 2 tubes at a time. The feeder and loader are designed for a range of tubing which offers additional flexibility. We can supply automatic feeders for tube lengths of less than 1 ft.Our machines can be equipped with a wide range of material handling options such as feeders, transfer mechanisms, seam finders, un-bundlers etc.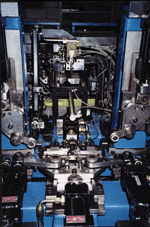 MIL high volume Wire (3/8" o.d. steel) Forming Machine produces parts at high speeds (up to 300 parts/hour) which
programmable and CNC machines can not match.

This operator view shows complex tooling required to process wire.